Welcome and A Brief Introduction
Wuji Qigong (無極氣功), also called Wuji Zhuang (stance or standing), is one of the oldest forms of Qigong (qi cultivation) exercises used by Daoist practitioners and martial artists in China since ancient times. By simply standing still with proper body alignment, relaxation and natural breathing, the Wuji practitioner allows the internal channels of qi (vital life energy) to open up and smooth out blockages, therefore activating the body's self-maintenance and self-repair process.
Wuji Qigong has been adopted by many schools of Taijiquan practitioners as a training tool to build foundational skills such as relaxation, rooting (balance, groundedness, and centeredness), Dantian (qi reservoir) development, and qi sensitivity.
The very act of being still and breathing naturally also has the effects of relieving stress, enhancing awareness and sharpening focus.
Like many wondrously simple and elegant arts, Wuji Qigong does require some guidance to learn, and its profound effects on health and martial art skills can only be achieved through daily practice.
In this course, I will show you the physical elements of a proper Wuji stance and the mental techniques to turn the game of "endurance" into one of easy and enjoyment. I will also guide you through 4 weeks of daily practice, starting from shorter durations and gradually building up to the ideal minimum of 20 minutes in one setting.
Whether you are here for health or to study Taijiquan, I look forward to sharing this life enhancing practice with you.
Your instructor, Yan
Benefits of Wuji Qigong:
Improved posture and spinal alignment;
Reduced mental stress and physical tension;
Enhanced immunity and general health;
Solid foundation for Taijiquan (Tai Chi)
What's included in the course:
5+ hours of video instructions and audio guides that cover:
Instructions on the wuji posture, with tips for making self-adjustments;
Techniques for working with the mind during standing (not all meditation techniques are conducive to or compatible with Wuji Standing; this course covers a few that are);
Guided practices from warmup to closing;
Audio guides for daily practice, to help you set up your alignment and build your standing session from 5 minutes to the desired 20 minutes per setting;
Weekly worksheet for self-designed practice routine that is applicable to Wuji standing meditation and to other similar habits;
Access to the instructor for questions through the weekly Q&A forum and end-of-week reflections;
Access to all course materials after completing the 4-week program.
Frequently Asked Questions
Is this course suitable for beginners with no experience in Tai Chi, Qigong, or Meditation?
Yes, absolutely! This course is designed as an introduction to all of the above. One thing to note is that although Wuji Standing is taught as a foundational training tool for Taijiquan (Tai Chi), we won't be doing any Taijiquan movements in this course. This course focuses on cultivating stillness, which will come handy when you start to learn Taijiquan movements (courses coming in May!).
Is this course only for beginners?
No. This course can be taken by anyone, including:
1) those who have been practicing Wuji Standing and/or Taijiquan for some time - if you feel you still have room for improving posture and quality of mind processes;
2) instructors of Taijiquan, Qigong, or other wellness modalities who would like to incorporate more meditative practices in their classes.
What is the refund policy?
Our course refund policy is specified in our Terms of Use (III): "Per Teachable's Terms of Use, all Students purchasing courses or course bundles at Moving Stillness through the Teachable gateway are entitled to a thirty (30) day refund from the date of purchase. Once a refund is processed, you will no longer be enrolled in that course and your access to the course materials will be removed."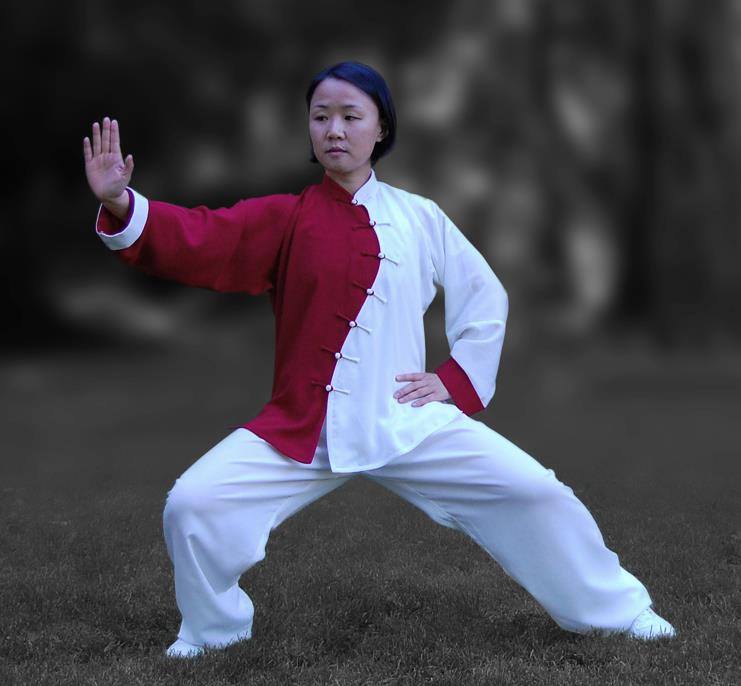 Yan Li is a Master Instructor of Chen Style Taijiquan certified by the American Chen Taiji Society (2019) and by Chen Qingzhou Taiji Institute (陈庆州太极功夫院) in Wenxian, Henan, China (2011). She is a faculty member at California University - Silicon Valley (formerly Nine Star University of Health Sciences), and was a Taiji instructor in the Health Improvement Program at Stanford University for 8 years. Yan was a multi-year gold medalist and judge at regional Chinese martial arts competitions, and has over ten years of experience teaching Taiji and Qigong in group and private settings, leading workshops and intensives, and coaching for Taiji competitions and stage performances.
Yan takes a student-centered approach to Taijiquan instructions and coaching where each individual is met where they are and encouraged to take the lead in growing and transforming from within. She works with students and clients of all ages and backgrounds.