This course introduces you to the first section of Chen Style Taijiquan (陳氏太極拳) Old Frame First Routine (Lao Jia Yi Lu 老架一路), one of the oldest forms of Taijiquan (Tai Chi Chuan or Tai Chi).
This section takes about 3'-3'30" to perform, making it a great candidate for stage performances or for martial arts competition events, as that is the usual time limit for Taiji performances at martial arts tournaments.
This section is foundational in learning Chen Style Taijiquan for a number of reasons:
1. the "postures" (chunks of connected moves) in this section are repeated throughout the rest of the Old Frame First Routine (Lao Jia Yi Lu), and are building blocks of more complex postures in Old Frame First Routine as well as Old Frame Second Routine (a.k.a., Canon Fists);
2. The postures in this section embodies the core movement principles in Taijiquan, including:
body alignment (身法),
stepping, or footwork (步法),
hand maneuvers, or Silk Reeling Exercises (手法),
relaxation (放鬆), and
whole-body movement with Dantian as the center (以丹田為核心的整體運動).
This course is best suited for:
students who have taken some preliminary Tai Chi classes (regardless of style) and are interested in learning Chen Style Taijiquan in a more systematic and detailed way;
students who are new to Tai Chi but have generally been a quick learner in body/movement arts;
students who are good at pacing themselves when learning a new skill or art (binging on Tai Chi instructions, while doable, often does not lead to desired results)
What does the routine look like?
This video shows what you will be learning in this course: the first section of Chen Family Taijiquan Lao Jia Yi Lu (old frame first routine). It is excerpted from a full-Length performance of Lao Jia Yi Lu.
Syllabus
The course materials consist of recordings from a 14-week, 28-hour course, Introduction to Taijiquan, offered at the California University - Silicon Valley (CUSV) as part of the Oriental Medicine curriculum in Summer 2021. The recordings have been condensed and re-arranged in a way that best facilitates self-paced studies focusing on the Lao Jia Yi Lu form, with the fundamentals as supplementary lessons.
Frequently Asked Questions
Is there a prerequisite or minimum requirement in taking this course?
No, there is no prerequisite for this course. However, the following courses are highly recommended prior to taking this course:
What's the time commitment for this course?
The materials covered in this course are typically taught over 12-15 weeks, assuming 2 hours per week of instructions (including led practice) and self practice. This estimate is of course highly variable and depends on your background and experience in body movement.
How long can I have access to the recordings?
Your access to the course materials do not expire. The form you are learning here is both foundational and rich in details. Many students who've learned the entire sequence find new learnings from this course.
Can I try a sample class before enrolling?
Everyone must register and agree to the terms before taking part in any learning activities here at Moving Stillness. You can enroll and try the course, and if it turns out not as you expected, you can request a full refund within 30 days from the date of your enrollment.
There a two Warmup videos (in Curriculum) that are free and accessible without enrollment.
What is your refund policy?
Our refund policy is specified in our Terms of Use (III): "Per Teachable's Terms of Use, all Students purchasing courses or course bundles at Moving Stillness through the Teachable gateway are entitled to a thirty (30) day refund from the date of purchase. Once a refund is processed, you will no longer be enrolled in that course and your access to the course materials will be removed."
I'm recovering from a health condition and heard Tai Chi could help; is this the right course to start?
It is best to consult your physician or healthcare provider. In general, if you have a condition (e.g., a knee/foot/hip injury) that prevents your lower body from bearing weight for a sustained period of time, it's best to let the injury heal first. While some health conditions can be improved through Taijiquan (Tai Chi), timing can be a factor to consider. I'm happy to chat to make sure this course is suitable for you before you enroll.
I have more questions. How do I contact you?
You can email Yan at [email protected].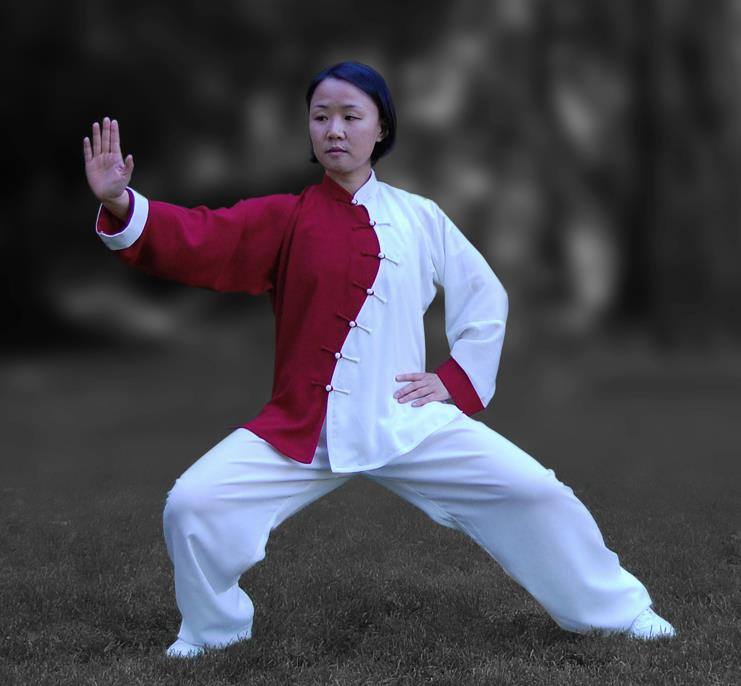 Instructor: Yan Li
Yan Li is a Master Instructor of Chen Style Taijiquan certified by the American Chen Taiji Society (2019) and by Chen Qingzhou Taiji Institute (陈庆州太极功夫院) in Wenxian, Henan, China (2011). She is a faculty member at California University - Silicon Valley (formerly Nine Star University of Health Sciences), and was a Taiji instructor in the Health Improvement Program at Stanford University for 8 years. Yan was a multi-year gold medalist and judge at regional Chinese martial arts competitions, and has over ten years of experience teaching Taiji and Qigong in group and private settings, leading workshops and intensives, and coaching for Taiji competitions and stage performances. 
Yan takes a student-centered approach to Taijiquan instructions and coaching where each individual is met where they are and encouraged to take the lead in growing and transforming from within. She works with students and clients of all ages and backgrounds.
Related Courses
in the Foundations of Chen Style Taijiquan series